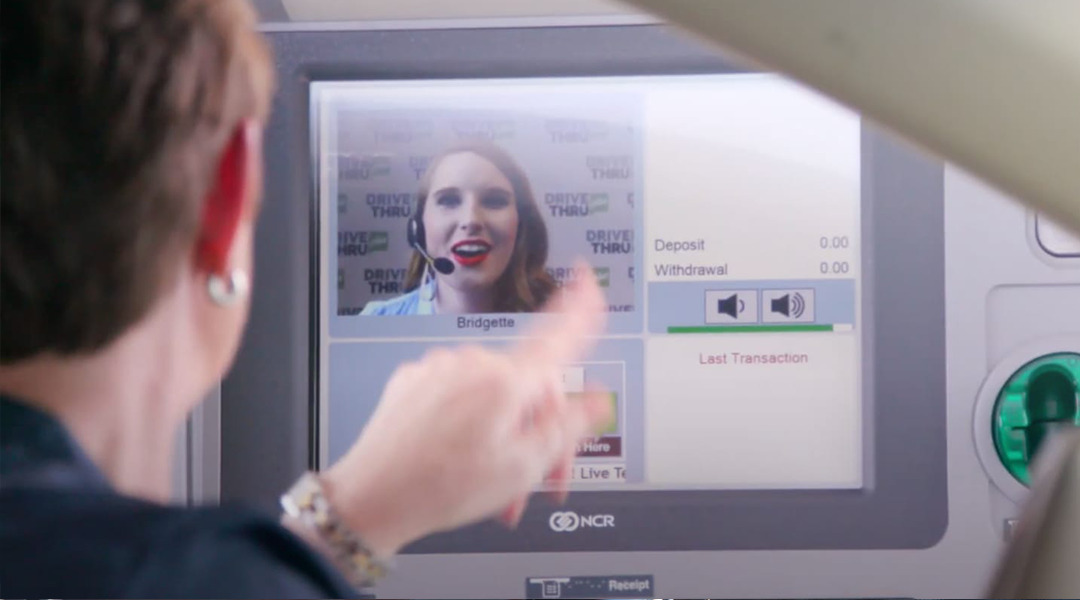 DRIVE THRU PLUS
Open 12 hours a day, 6 days a week
(Yes, even on Saturday)
YOU'LL LOVE
DRIVE THRU plus
TRADITIONAL BANKING SERVICES DURING NON-TRADITIONAL TIMES
Drive thru banking hasn't changed much in the past 40 years. Until now. Discover DRIVE THRU plus, a simple solution that revolutionizes the drive thru experience, Featuring Interactive Teller Machines, (ITMs), you can interact with a live teller who will personally assist you with over 70 different transactions.
With extended hours, DRIVE THRU plus is available when it's most convenient for you:
Monday through Friday, 7am – 7pm, EST
Saturday: 7am – 7pm, EST
There are two ways you can use DRIVE THRU plus:
1) Insert your debit card to use the ATM function, 24/7, to withdraw cash, transfer money, check balances and now you can make deposits too!
2) Touch the screen to interact with a live Bank of Tennessee teller through two way video. They will be able to assist you with the following:
Withdraw cash, including coins
Make cash or check deposits
Cash checks
Make loan payments
Exchange bills
Order checks
Get online banking assistance
And more!
Available at all Bank of Tennessee, Carter County Bank and Mountain Community Bank branch locations with drive thru service from 7am to 7pm EST, 6am to 6pm CST Monday through Saturday.
DISCOVER DRIVE THRU PLUS
What is an ITM? What can I do using an ITM? How is it different than an ATM? We answer these questions and more in a series of informative videos and FAQ's.
REPORT A LOST OR STOLEN CARD
you have questions, we have answers.
A traditional drive thru relies on noisy tube systems, provides little engagement with bank staff and is only open during traditional branch hours.  Traditional drive thru ATMs have a limited selection of transactions you can perform (withdraw cash, transfer money, balance inquiry, etc.)
DRIVE THRU plus is a new type of drive thru experience, Each drive thru lane is equipped with an Interactive Teller Machine (ITM).  ITMs look just like an ATM, but with much more capability. You can use the ITM in two ways:
As an ATM: You can do all the things that you can do today on our ATMs.
As an ITM:  You can connect real-time with a friendly Interactive Teller, (a real person!) through two way video.
If you want to make a deposit, cash a check, or any other type of transaction that typically involves a teller, just touch the screen, and you will be connected directly to a Bank of Tennessee Interactive Teller. Just like with Skype or Facetime, you will see the teller on the screen. You'll be asked to scan your ID for identification and the teller will help with your transaction. It's just like if you walked up to a teller inside the branch.
The ATM is available 24/7. To use as a traditional ATM, simply insert your debit card to start your transaction. You will be able to perform all the same functions that you can on a regular ATM such as account balance inquiry, withdraw cash, transfer funds between your Bank of Tennessee accounts, etc. A new added function is you can now deposit cash (not including coin) and checks directly through the machine. You will receive a receipt for your transaction that includes images of any checks that you deposit.
The ITM, featuring a live Bank of Tennessee Interactive Teller, is available from 7am to 7pm EST, 6am to 6pm CST, Monday through Saturday. This means that you can perform many more transaction types than you can with an ATM. And this teller is available to help you before and after our regular branch hours.
Almost any transaction that can be completed with a teller can be completed with an ITM.
Examples include:
Checking/savings deposits
Checking/savings withdrawals
Balance and Account inquiries
Account transfers
Check cashing
Loan payments
Exchange bills
Order checks
Change of address
Redeem savings bonds
Online Banking assistance
CD Rates
DRIVE THRU plus allows you to do all the things you do through a regular DRIVE THRU, plus:
Talk to a bank employee privately and securely.
DRIVE THRU plus has extended hours, before and after traditional banking hours (and on Saturday) to serve you when it's convenient for you.
Extended deposit functions including cash (not including coin) and check deposits. You will even receive images of the checks you deposit on your receipt.
 Safely and quickly perform transactions without leaving your vehicle.
No, using DRIVE THRU plus is the same as going to the teller window inside the branch. There are no additional fees.
Yes, your conversations are as private as if you were standing in line inside the bank. For your security and quality control, audio and video of each transaction will be recorded.
Yes, if you prefer to complete an ATM transaction without the assistance of an interactive teller, simply insert your debit card in to the machine and follow the steps you would take with a typical ATM. During the ATM transaction, if you would like assistance, you have the option of speaking with the teller at any time.
The ITM can dispense coin but can't accept coin. Here are some suggestions on how you can handle making a deposit with coins.
Round up the amount of the deposit to the nearest dollar and the ITM will dispense the change back. For instance: if your deposit is $90.75, you can make a deposit for $91.00 and the machine will dispense 25 cents back to you.
You can make the deposit without the coined amount. For instance: on a $90.75 deposit you will just deposit $90.00 and keep 75 cents.
Use the Night Drop and the branch will process your deposit the next morning.
Bank of Tennessee is always looking for new and better ways to allow our customers the ability to bank how and when they want, while maintaining safety, security and ease.
There are a number of benefits for our customers:
You will be able to access bank personnel longer than our traditional branch tellers because of extended DRIVE THRU plus banking hours – 7 a.m. to 7 p.m. EST, Monday through Saturday.
You'll likely experience shorter lines, with live personal assistance every step of the way, without leaving your car.
You can complete up to 95% of typical teller transactions—like deposits, withdrawals, transfers, and payments with the ITM.
You can talk with any Bank of Tennessee employee or call our Customer Care Department at 866.378.9500.